The Y5 class is taught by Mrs Tamsin Pulley. Teaching and Learning is supported by Mrs Zoe Kalber.
Please contact us via the school office or Seesaw if you have any questions.
AUTUMN TERM 1 2022
Our topic for this half term is 'A Storming Adventure'.
To inspire our curriculum learning, we are reading 'Brightstorm: A Sky-Ship Adventure' by Vashti Hardy. Our non-fiction book is the amazing story of Ernest Shackleton and his trip to the Antarctic: 'Shackleton's Journey' by William Grill.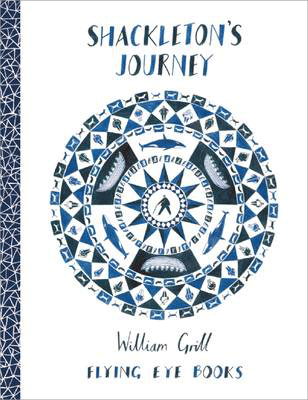 ENGLISH
Inspired by the adventures in our reading books, alongside the poem 'Cold Mountain' by Han-Shan we will be focusing on making use of a range descriptive language in our poetry work and fiction writing where we will write our own daring adventure stories. For our non-fiction work, we will learn about the features of journalistic writing and write a newspaper recount of the adventures of Ernest Shackleton and his crew on the 'Endurance'.
Alongside our reading work, we will be exploring a wide range of Tier 2 and Tier 3 vocabulary taken from the texts. We will play with vocabulary to aid our understanding and extend our understanding through finding synonyms and antonyms, analysing prefixes, suffixes and root words, investigating shades of meaning as well as using words correctly within and across a range of contexts.
MATHS
This half term, our learning will continue to focus on place value where we will learn about and use numbers up to one million. We will also revisit and extend our learning Roman Numerals and negative numbers . We will also learn about addition and subtraction, including using mental methods and finish the term learning about data handling and statistics, where we will learn about a range of graphical representations including line graphs.
SCIENCE
Our Science this half-term focuses on forces. We will be planning and carrying out a range of investigations into forces, investigation what happens when forces are balanced or unbalanced. We will also explore the effects of air resistance, water resistance and friction on moving objects.
GEOGRAPHY
Linked to our reading about Ernest Shackleton, we will learn about the 'Extreme Environments' of the polar desert and tundra biomes. We will also begin to learn about mountains, their formation and where the key mountain ranges are located in the world.
RE
This half term our focus is the Jewish religion, exploring the question 'Why is the Torah so important to Jewish people?' We will be learning about what the Torah is, why it is so important as well as other important practices within the Jewish religion.
PE
Children will have two PE sessions each week - please make sure your child wears their PE kit to school every Monday and Tuesday. Please make sure your child has their school PE kit on, including a school jumper. For safety reasons, all watches and jewellery must be removed for PE lessons. If your child wears earrings, they must be able to remove them independently or cover them with medical tape. Please send medical tape in with your child if needed. Alternatively, it may be easier to leave earrings at home on PE days.
This half term our PE focus will be 'Step to the Beat' where children will be learning a range of fitness moves to music, so that they can create their own sequence. We will also be working on pilates type excises within the 'Cool core' unit to strengthen our bodies.
COMPUTING
The children will continue to learn about online safety through our new resource, 'Gooseberry Planet'. This half term, they will be learning about the digital footprint and how to deal with junk email. Within our creative computing curriculum, we will use Scratch to develop an interactive game.
MUSIC
This term we will be learning to listen to, appraise and respond to rock music as part of Charanga Music: Living on a Prayer, learning about, singing and playing along to a range of well-known rock songs.
ART
We will be exploring the work of the artist David McEown, and using this as inspiration to try out a range of drawing and painting techniques, including learning about the use of colour to reflect mood and atmosphere.
DT
Later in the term, we will be investigating and analysing a range of different shelters to find out what are the key features necessary for an effective shelter. We will then test out different materials and structures before working in groups to design and shelter to be used in a polar region.
PSHE
During this half term, the children will be learning about different aspects of life using LifeWise PSHE. We will explore how to be the best learners we can be, how to become more resilient and how to work as a team.
MFL
This term we will continue learning with 'Rigolo' French. This half-term our focus will be on identifying and describing animals. We will also review and revise the vocabulary from previous sessions.
HOME LEARNING
In year 5, children still need to read lots! All children are expected to read at home most nights for 15 - 20 minutes either to themselves or with an adult. This could be their school Accelerated Reader book, listening to a story read by someone else or sharing a favourite book. All are equally valuable. Talking about what they have read is also vital to help develop comprehension skills. This is particularly beneficial to the children when completing their Accelerated Reader quizzes. All children have a reading record book in which parents, carers or the children themselves can record what they have read or make any comments.
In addition, children all have access to Times Tables Rockstars, and Spelling Shed - online sites for practising their times tables and spellings. Please encourage your child to learn their spellings and times tables regularly - five or ten minutes a day is likely to be more beneficial than an hour once a week.
We love reading at Lanner! Reading to, and with, your child is one of the greatest gifts you can give as a love for reading will ensure your children becomes a reader for life. Research shows that reading and talking to your child about stories, information books and poems from an early age benefits them for life.
With such a wide range of books available, knowing the 'right' one to choose can sometimes be a little confusing, so why not have a look at the recommended reads below for Year 5 children? Many of these books are also available at the local library so, if you're not already a member, have a look at the link below to join up and re-invigorate your reading journey!